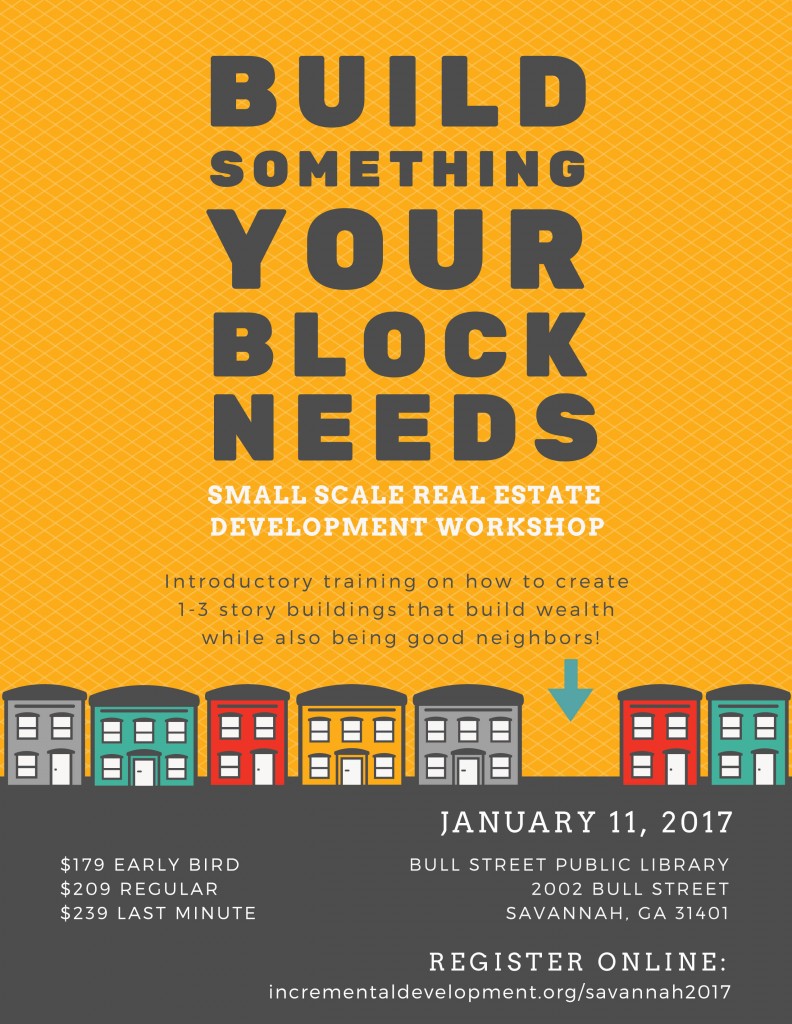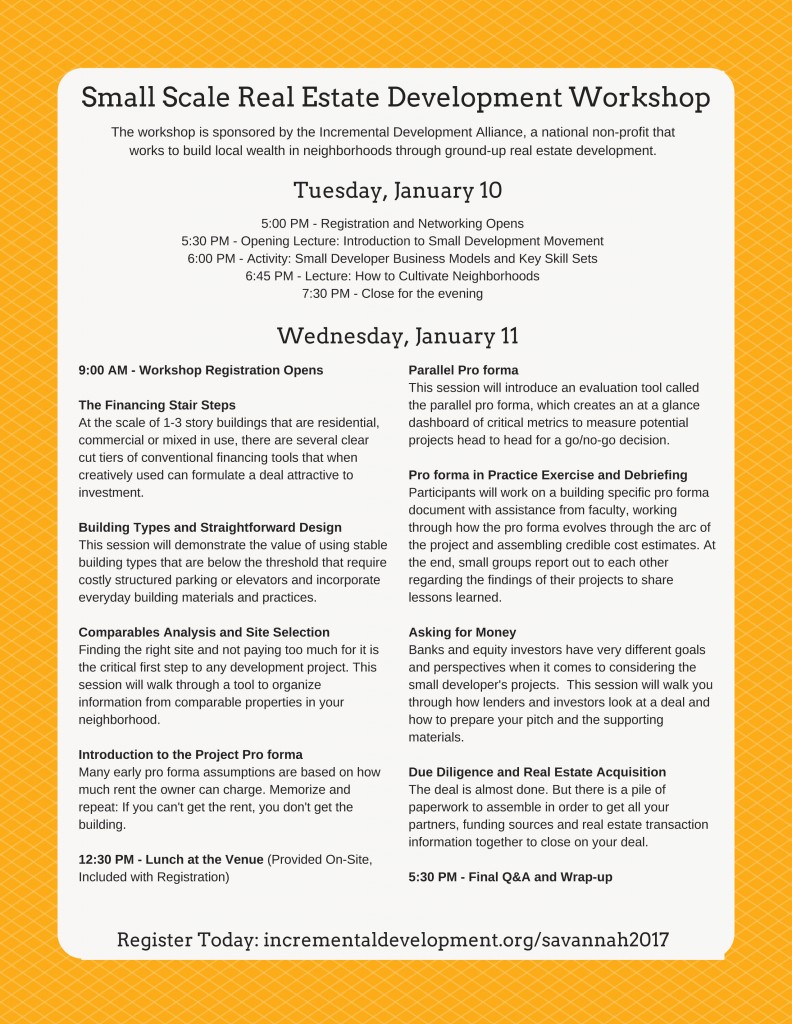 Small Scale Real Estate Development Workshop 
WHAT:
Small Scale Real Estate Development Workshop
WHEN:
January 10, 2016 – 5:00 PM-7:30 PM – Opening Lectures and Networking Reception
January 11, 2016 – 9:00 AM-5:30 PM – Workshop
WHERE:
Bull Street Public Library – 2002 Bull Street, Savannah GA
COST:
$179 for Early Bird Registration – until December 23
$209 for Regular Registration – until January 6
$239 for Last Minute Registration – until January 10
Register online at http://www.incrementaldevelopment.org/savannah2017
Scholarships are available, please contact Kevin Klinkenberg at kevink@sdra.net to apply.
WHO SHOULD ATTEND?
Individuals in construction, design, planning or real estate looking to either enhance their current practice or make career transition
Volunteers or professionals in business associations, main streets associations, historic preservation groups and neighborhood improvement groups looking to champion incremental development in their communities
Public sector professionals in city management, economic development, planning, and related agencies who are looking to make it easier for small development projects to occur in their town
Professionals in non-profit development organizations, churches, and community development or housing development organizations who need new strategies for small lot development
Private banking professionals specializing in mortgages, commercial real estate loans or SBA loans and professionals as at Community Development Financial Institutions and Community Foundations who want to become more effective investors
PRESENTERS
Monte Anderson
Monte Anderson is President of Options Real Estate. He is a 25-year real estate veteran involved in sales, leasing, property management, development and construction in Southern Dallas And Northern Ellis Counties.
Eric Kronberg
Eric has worked in Louisiana, Florida, and Georgia. In Florida, projects consisted of high-end beachfront residences in Naples and Miami. Eric then spent a year and a half focusing on office and warehouse projects in Atlanta, before joining Brock Green Architects in 2000, where he specialized in light-commercial and multi-family project types. After helping complete award-winning projects, including MidCity Lofts in Midtown Atlanta, he earned his architectural license in 2003, joined the American Institute of Architects, and spent a year as an architectural and construction consultant for the Mon Ami winery in Port Clinton, OH. Eric co-founded Kronberg Wall Architects in 2004. He is the Zoning Chair for his neighborhood, the Organized Neighborhood of Edgewood.